08.12.2023
Opening:
Experimental Estate Budapest 1931 –
Model houses Napraforgó-Street
08.12.2023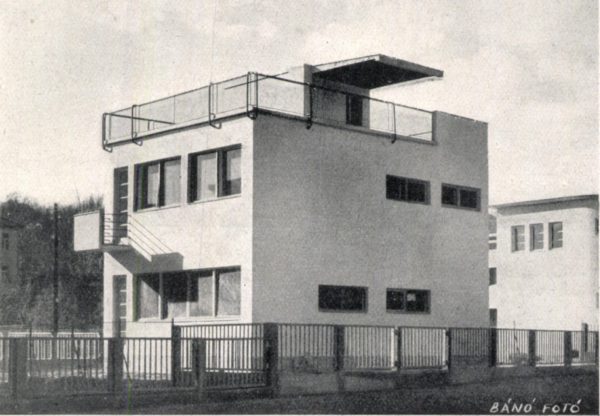 Friday, Dezember 8, 2023, 7 p.m.

Welcome address
Anja Krämer (Director of Weissenhofmuseum),
Dr. Dezső B. Szabó (Director of Liszt-Institut – Ungarisches Kulturzentrum Stuttgart)
Introduction
Klaus J. Loderer (Curator),
Gábor Megyeri (Napraforgó Street Bauhaus Association)
Exhibition
In 1931, an experimental housing estate with detached houses was built in Budapest. Today it is known as the Napraforgó Street estate. It was initiated by a group of Hungarian architects and realised by the construction company Fejér és Dános. Their aim was to find new solutions to the housing problem.
Among the architects involved were well-known names in Hungary such as Farkas Molnár, Virgil Bierbauer and József Fischer. They brought international modernism to Hungary. The 22 residential buildings on the estate display a broad spectrum of styles. In addition to influences from Art Deco and Expressionism, the majority of the architects orientated themselves towards Neues Bauen and the formal language of the Bauhaus.
The "small housing model estate" was already inhabited when it was officially opened in November 1931. However, the houses were presented to the public in detail in the progressive Hungarian architecture magazine "Tér és Forma".
The exhibition in the Weissenhofwerkstatt in the Mies van der Rohe House shows the Hungarian Napraforgó Street estate in the context of the Weissenhof estate. Exhibiting historical plans, photos and models. It was created in collaboration with the Hungarian Museum of Architecture in Budapest.
Location
WEISSENHOFWERKSTATT im Haus Mies van der Rohe
Am Weissenhof 20, 70191 Stuttgart
Exhibition opening hours
Saturday, Sunday, public holidays, 12-5 pm
December 9, 2023 – March 3, 2024
(except 12/24 und 01/01)
Guided tours
Thursday, Dezember 28, 2023, 4 pm (Klaus J. Loderer)
Saturday, March 2, 2024, 2 pm (Klaus J. Loderer)
Symposium
Thursday, Februar 22, 2024, Liszt-Institut – Ungarisches Kulturzentrum Stuttgart
Organiser
Weissenhofmuseum im Haus Le Corbusier / Freunde der Weissenhofsiedlung e.V.
Curator
Klaus J. Loderer
Partner
Hungarian Museum of Architecture (MEM MDK)
Napraforgó Street Bauhaus Association
Liszt-Institut – Ungarisches Kulturzentrum Stuttgart