21.04. -
11.06.2023
The Mies Project – Architectural Portraits – Double Exhibition Arina Dähnick in Stuttgart
21.04. -
11.06.2023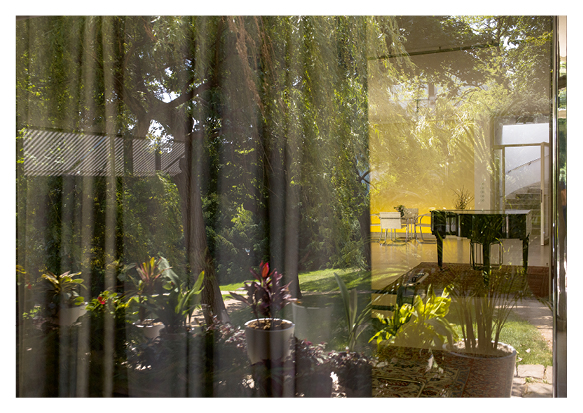 The architecture forum Die Raumgalerie and the Weissenhofmuseum are jointly presenting a double exhibition on the work of the photo artist Arina Dähnick in the Le Corbusier house in Stuttgart. In recent years, Dähnick has received several awards for her exhibitions and publications, in particular for the work of the architect Ludwig Mies van der Rohe. Her photographic works can be found in prominent collections.
The first part of the double exhibition takes visitors to the architecture forum Die Raumgalerie, where Dähnick shows an exclusive selection of her "Architectural Portraits". With them, the photographer takes a very personal and at the same time sensual look at the architecture that she has captured during her numerous travels. The images create a multi-faceted play between external reality and the imaginative inner eye, thereby provoking an almost intimate experience.
What place could be more suitable for the second part of the exhibition than the Weissenhof workshop in Mies van der Rohe's house. Dähnick's works from the series "The MIES Project" and previews of her new project "Living with MIES" can be seen here. The partly large-format pictures show reflections, reflections and shadow plays in iconic buildings such as the Berlin National Gallery, the Barcelona Pavilion or the Villa Tugendhat. Far removed from documentary architectural photography, Dähnick manages to come close to the spell and fascination of Mies' architecture.
Photo: Arina Dähnick, Tugendhat House
April 21 to June 11, 2023
The MIES Project by Arina Dähnick
Weissenhof workshop in the house of Mies van der Rohe | www.weissenhofmuseum.de | Am Weissenhof 20 | 70191 Stuttgart
Opening times Sat, Sun, public holidays 12 p.m. – 5 p.m
Architectural Portraits by Arina Dähnick
The Space Gallery | www.dieRaumgalerie.de | Ludwigstrasse 73 | 70176 Stuttgart
Vernissage: Fri, April 21, 2023, 6 p.m. in the Raumgalerie
Sat, April 22, 2023, 2 p.m. in the Weissenhofwerkstatt Raumchat: Mid / late May live from the S. R. Crown Hall Chicago
International Museum Day Sun, May 21, 2023: 2 p.m. and 4 p.m. guided tour of the Weissenhof workshop